What Are the Benefits of Project Management?
Project management for landscaping companies is very different from more traditional office-type business models. From field crews to bidding wars, landscaping and lawn care businesses take on a myriad of additional responsibilities in your day to day work. This is where having project management software comes in handy.
At Arborgold, our focus is supporting landscaping, and other field-related businesses, with software, tools, and information designed just for you. Rather than using a generic run of the mill project management platform, Arborgold has created a space specifically for landscaping companies to shine.
Here, we will discuss the major benefits of project management software, and why your landscaping or lawn care business should consider investing in it.
What is Project Management Software?
As the name suggests, project management software is a digital tool used to manage projects within your market or industry. For a landscaping management team, this tool saves time and money by consolidating information and resources into one easy to access space.
The functions available through your project management software may vary depending on business type and current goals. Some of the main settings landscapers look for are task distribution, budget management, team communication, and schedule tracking.
Project management software can be accessed from any device where it is installed or shared, making it easy for business owners to keep an eye on day to day and long-term goals in real-time. This sharing also lets you monitor your business form work, home, the road, or while away on vacation – keeping you connected when it matters most.
Top Benefits of Project Management Software for Landscaping
Managing a company takes more than printing spreadsheets and ticking boxes off on a checklist. It requires diligent attention to detail, filing of reports, monitoring return on investment, maintaining inventory, and so much more. To fit all the tasks required of a management team into one simple tool is not easy to manage, but we at Arborgold feel we have successfully devised a project management software that does just that.
While our project management software provides a variety of benefits to business users, there are a few we would like to highlight for landscaping companies. Here are the main reasons to consider project management software for your own company.
Access to Plan Costs vs. Actual Costs
Seeing positive variance in your cost reports is always a great feeling, but monitoring costs and expenses is time-consuming. Sometimes, not monitoring these cost variances closely enough could cost you more than expected. If you are looking to save money this quarter, having access to digital data on plan costs vs. actual costs is a huge benefit.
With Arborgold's project management software, your company can closely maintain cost standards easily and efficiently. The tool updates cost reports automatically as costs are reported and provide a convenient chart of both financial lines so you can realistically gauge how close you are to meeting this quarter's goal.
On-Time vs. Overtime
When more than half of your employees are in the field, scheduling can be a nightmare. This is especially true during times when you are working on minimizing overtime. Leaving staff in the field too long, scheduling the same team member too many days in a row, or forgetting to provide time off and vacation for your field crew all equates to one thing: overtime. Overtime costs your company more because your employee's standard rate of pay is increasing as they work over their regular scheduled shifts. To fix this issue, management teams must closely monitor staff schedules and ensure that team members are switching roles when necessary to prevent overtime.
A good quality project management software takes the guesswork out of employee scheduling. It not only monitors who is in the field and when but will send you notifications when an employee is nearing their quote for on-time hours. This gives you the choice of whether they will work overtime, rather than leaving it to chance.
Job Status Transparency
Open communication is the key to success in any business which sends employees out into the field. Being away from the main hub of information (the office), leaves many employees feeling out of the loop. This also affects management as they may be unable to report on work completed vs. work to be done, and so forth. With project management software, your team is always in the know.
Project management software is a customizable tool, allowing you to share data with your entire team and keep everybody informed and apprised of company goals, deadlines, financial quotas, and more. Having open access to project information, including inventory and equipment, lets your team plan their jobs more efficiently, and keeps everybody on the same page.
Resource Planning Optimization
Resources are essential to landscaping because without them, your crew would have no tools, and your customers would receive no products. Ensuring you have all the resources required to meet needs for a workday is crucial to the success of your business. Fortunately, using project management software, you can consistently monitor inventory in your plant nursery, warehouse, and toolshed. This includes maintaining fuel levels in automobiles, mowers, tractors, and more.
An additional benefit for resource planning optimization relates to the transparency benefit above. Your employees can always see what is being used and where. This lets you strategically schedule jobs in nearby neighborhoods between members of your team who require the same equipment with no need for a lengthy drive back to head office.
Improved Communication Between the Office and the Field
Finally, one of the main reasons to consider project management software for your business is the connection it creates between the business office and field. We touched on this a bit above regarding business transparency, but there is so much more to inter-office communication than scheduling alone.
Having access to real-time ongoing communication with your field team means you can warn them of accidents and potential road delays in their area, update them with weather forecasts, reports changes to the job they are currently working on, and find important resources which have not been properly signed out for a task.
Communicating with your team in the field provides you with essential information on how far along a job is going, whether there will be substantial delays, and if more products or staff are needed to finish on time. It also lets you reach out to team members with driving directions, and other important information they may require to meet daily goals.
Check Our Arborgold's Project Management Software Today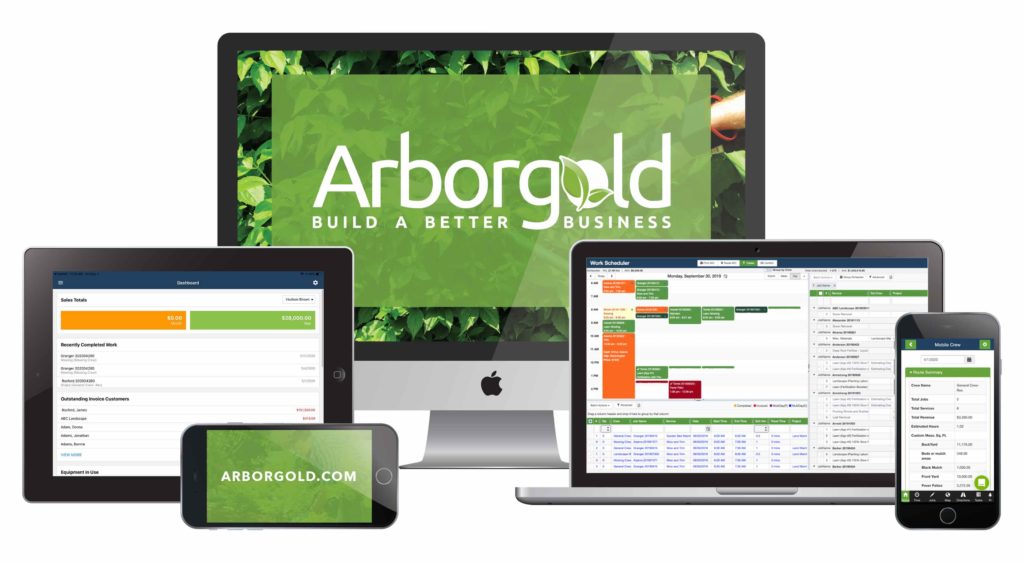 Arborgold is proudly American and strives to support small, medium, and large landscaping companies across the United States. Working together to increase our economy and create a sustainable landscaping industry is important to us and the planet.
Based out of Indiana, Arborgold has strong roots in the farming and landscaping communities. As we build relationships with our clients, we are able to develop more streamlined and evolving business tools, such as our project management software.Discover why thousands of users select Arborgold for their all-in-one business management tool that includes project management features designed to keep your teams on track and on time and meet your cost goals. Take a tour!