Arborgold software features
Estimating, scheduling, job costing, invoicing, and so much more
Dramatically improve individual and team productivity, profitability, and customer satisfaction across your entire organizational workflow.
Business management software that's easy-to-use
Operating successfully at full capacity with flexible software that is ready to take on any situation.
Excellent Business Management Software Features For Your Sales Team
Customer Relationship Management Software Features
Salespeople want to turn new leads into new customers. Even more importantly, they want your customers to complete an entire product life cycle.
Arborgold offers green and field service companies the data and simple tools they need to make the best decisions for their customers. Rest assured each inbound call, outbound site visit, and account management function will get the priority and attention it deserves with these software features:
Quotes, Bids or Proposals
E-Sign Acceptance
CAD Drawing Tool
Digital Message Center
Automate Renewals
Google Calendar
QuickBooks Desktop and Online
SMS Text Messaging
Email Marketing Campaigns
Proposal Follow-Up
Database Marketing
Detailed Job and Activity History
Document Control and Image Storage
Job Costing
Sales and Revenue
Profit by Project, Sales Rep, or Service Type
Job Status
Payroll
PROPOSALS, BIDS, AND ESTIMATES
MOBILE UPDATES & TRACKING
Top Job Scheduling Software Designed For Production Crews
Software Features For Field Service Management
In today's fast-paced world, there are plenty of reasons to use technology to stay organized and on task. Your success is tied to your ability to meet expectations and deliver a scheduled job on time.
Arborgold is not cookie cutter cloud-based scheduling software. Designed for field service crew tracking and service business management, Arborgold has the detailed job management functionality and software features you're looking for including:
Service Scheduling
Equipment Scheduling
Inventory Assignment
Employee / Labor Assignment
Smart Routing
Visual Mapping
Recurring Service
Scheduling
Successor Service Scheduling
GPS Crew Tracking
Time Tracking
Group Scheduling
Route and Reroute Optimization
Batch Edits/Reassignment
Conflict Tracking and Reports
State Reporting / Chemical Reporting
Job Costing
Labor Direct
Contribution Costs
Service Totals
Equipment / Inventory Lists
SCHEDULING & JOB MANAGEMENT
JOB & PROFIT MARGIN COSTING
MOBILE UPDATES & TRACKING
Empower Office Staff And Business Management Administrators
Job Scheduling Software Features
From answering phones to collecting on invoices, emergency scheduling and customer care, your administrative staff and office teams are at the heart of everything in your business.
Keeping track of many moving parts isn't always easy. But green industry and service businesses have found success with Arborgold. Arborgold software features include detailed customer history, tools such as text messaging, and customizable templates, every contact in your database will be given the attention to detail that they deserve. Business management and job scheduling features from Arborgold: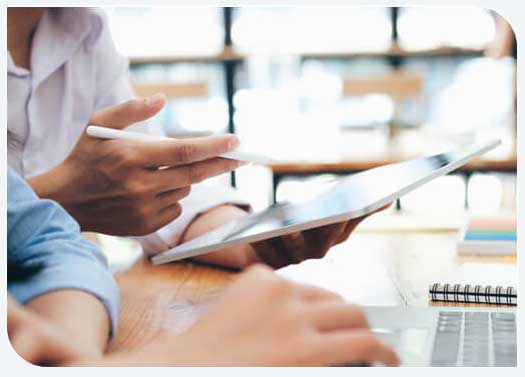 Lead Capture Forms
Messaging &
Appointment Center
Lead Routing
Google Calendar
Integration
Proposal Follow-Up
Email Marketing
Batch Renewals
QuickBooks Integration
Customer Portal
Document Control
Detailed Activity History
Database Search / Filters
State Reporting /
Chemical Reporting
Sales and Service Totals
Payroll Exports
Project and Job Status
24/7 CLIENT ACCESS PORTAL
Email Marketing Automation
Generate More Sales Opportunities
Marketing teams NEED results for their service business. When you're investing dollars to drive new sales, you need to capture and follow-up on every lead in seconds. With Arborgold, you're setting a sense of urgency with sales teams and office personnel whether you're pushing special offers, discounts, or new service packages.
Successful Field Service Business Marketing comes from your ability to target your market, capture as many website visitors as possible, and generate follow-up campaigns that works in tandem with sales, resulting in more business.
Software Features For Management And Executives
As a business leader, you want your company to always move in the right direction. That means new profits and more growth while maintaining the quality of your service delivery. Day to day, operational trends may be harder to see, until now. Arborgold brings the power of your customer and work order data to your dashboard. And with standard and custom reports, every decision you make, can be made confidently, based on solid facts and figures.
Business management software that comes fully equipped with key metric reports designed for owners and executives means instead of paying your teams to hunt for, or create reports, you have what you need at any time, on the desktop or on the go.
Proposal, Bid or Estimate Status
Sales Pipeline
Autoprice Estimating
Close Ratio reports
Workflow Management
Crew tracking
Job Costing
Visualization Metrics
Job Status
Renewals
QuickBooks Integration
Sales / Commissions
Revenue by Sales Rep
Labor Hours
Field Service, Job Costing, And Scheduling Software Features For Accounting Teams
Complete job history and logs
Automated data transfers
Crew tracking for payroll and HR.
Complex billing options
Online E-Pay Option
Print and/or Email Batch Invoicing
Seamless Integration
with QuickBooks
Simple business management costing features
Accounting teams want simple solutions to complex problems when it comes to reconciliations and receivables. Accuracy is key. The more manual data entry, the longer it takes and the more room for error. Today's service businesses are improving the way their accounting teams are closing the books each month with Arborgold.
Cash Flow, A/R & Inventory
Job forecasting
Automated follow up on invoicing
Work order inventory and resource detail
Commissions
Direct Contribution by Work Order (Job Costing)
Detailed sales breakdowns
Custom
Reconciliaton software features
Accounting, Billing, and Invoicing software that offers batch invoicing, complex billing setups, and an online payment option means you're getting the data and payments faster, improving the cash flow of your business over time.
Ready to see Arborgold in action?
Schedule a personalized walkthrough