Arborist and Tree Care Company Business Management Software
Learn how Tree Care companies are using Arborgold's Plant & Tree Inventory, Chemical Tracking, and Project management features to increase their bottom-line revenue.
Trusted by leading lawn, tree, and landscape companies Learn more about the Power of Arborgold Software.
Discover the features that today's leading companies use to acquire more customers and create repeat business year-after-year.
How Arborists Rely on Arborgold Tree Care Software
And run their business both from the office and on-the-go
Mobile app for estimating
Create, send, and capture digital approvals on branded, professional-looking quotes while in the field.
Operate on a single technology system
Connect your office teams with your remote salespeople, crews, and customers inside one software system.
Crews, Resources, Equipment, and Material scheduling tree care services with ease.
Capture, route, follow-up, and track inbound calls, emails, and voicemails through a collaborative digital message center.
Track crews via smart mobile apps
GPS real-time time tracking, routing, scheduling, and billing of tree care services in the palm of your hand.
Increase sales with automated follow-up
From proposals to jobs and renewals, trigger automated emails and set internal tasks for certain key sales milestones.
Efficiently Quote, Schedule, Manage, And Invoice Tree Service Jobs
Keep your crews running safely but at full speed with software designed specifically for Tree Care and Arborist companies. Branded bids with logos, reviews, and add-on service options, map client tree and plant inventory, update jobs with progress photos, track and route crews with GPS, auto-generate renewals, e-invoice, collect payments online, and so much more. Everything's included.
What Parshall Tree Loves About Arborgold's Tree Care Business Management Software
Parshall Tree Care Experts loves Arborgold's Proposal where our customers can accept and pay for services online with seamlessly integrated credit card payments.
Arborgold's client Plant and Tree Inventory features help us stay organized. It allows us to proactively carry over thousands of service opportunities and renewals each month, quarter, and year.
Arborgold's email integration with SendGrid allows us to see if our clients and leads are opening promotional emails, bids, and invoices. Our follow-up on receivables and estimates is always more effective when we know more about any client's online experience.
Arborists Can Master Their Tree Care Scheduling
Tree care companies have unique scheduling needs. Whether you're ready to schedule a single job with multiple services, or you have a large project that spans a couple of days, Arborgold's scheduling software will match your current service business process.
Gone are the days of whiteboards that you can ONLY see when you're at the office.
Schedule and modify tree care service schedules with ease using our drag and drop calendar features.
Schedule and route resources by service type, crew, and location.
Use advanced filtering to zero in on the jobs you need to schedule.
In just a couple of clicks, you've pulled up and scheduled that "half-day" tree removal. Now everyone in the field is productive for the full 8 hours.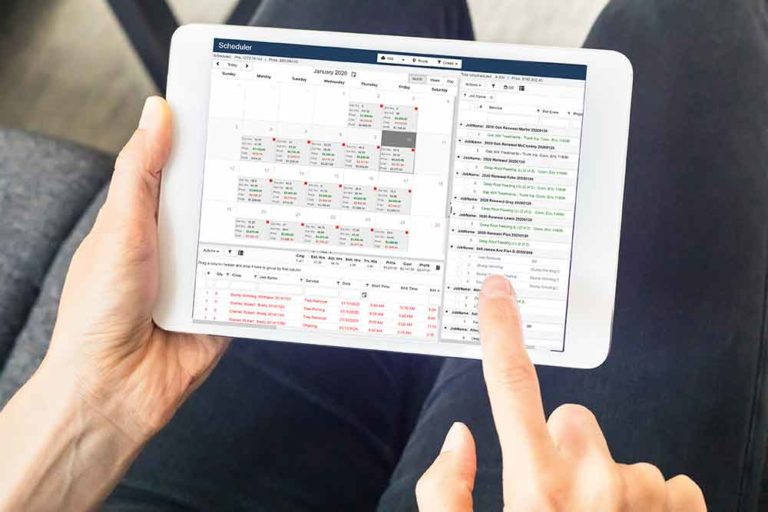 Track And Assign Resources
Service businesses that are growing, always experience some form of internal pain. Primarily, your customers don't want to pay you for non value added work such as travel time, prep time, or even lunch breaks.
As a result, you want to make sure:
Every job you complete is profitable.
Every job has everything and everyone they need, when they need it.
You understand what resources are available at any time.
You're capturing time, location, and job progress every day.
With Arborgold's Mobile Crew mobile app for tree care companies and Arborists, you're eliminating job costing guess work by accounting for every hour and every minute, of every day.
Arborgold Helps Tree Care Companies Generate More Income
As a tree care service provider, your business should be generating new income by way of new customers and current client renewals. But keeping track of every opportunity may not have always been easy. Until now.  At Arborgold, we help tree care companies grow by:
Making bidding simple but flexible. Estimates you present can reflect the conversation and options you have discussed with your potential customer.
Managing your sales pipeline. Arborgold's simple, effective opportunity features keep track of ALL your bids, messages, appointments, and site visits so nothing falls through the cracks.
Automating renewal estimates. In just a couple of clicks, sales teams can be reaching out by email, phone, and text with new proposals based on previous work.
Arborgold Features To Increase Cash Flow
Cash flow is what keeps your doors open.  With Arborgold tree care software:
You're ready to book every estimate as a work order in under two clicks.
You're automating follow-up to stay in touch with leads and win more bids.
Using Arborgold's Mobile Crew app, your arborists are completing service line items, so your office knows immediately what can be invoiced.
From quotes to invoicing and pre-payments to partial payments, deposits, and terms, Arborgold tree care software does it all.
Improved Tree Care Operations = Improved Customer Experience
Respond faster to inbound calls, website visits, and other important messages with Arborgold's integrated message center. Never miss another opportunity or forget a service call back. Get notified by text or inside your Arborgold your desktop or mobile app.
Tree care professionals can reduce service calls and improve your customer's experience with a 24/7 self-serve portal online where clients can access real-time account information to review estimates, approve jobs, pay invoices, and make additional service requests.
With Arborgold's tree care one-software model, your production teams, sales teams, and office teams stay connected with access to the information they need most including activity notes, work order line items, property photos, estimates, prepayments, and other important invoice information.
Ready to see Arborgold in action?
Schedule a personalized walkthrough