Snow Removal Business Management Software
Learn how Snow Removal companies are using Arborgold's estimating and scheduling features to increase their bottom-line revenue
Trusted by leading lawn, tree, and landscape companies Learn more about the Power of Arborgold Software.
Discover the features that today's leading companies use to acquire more customers and create repeat business year-after-year.
Scheduling and Job Management Software
For hard working snow removal companies
Flexible work order management
Create, schedule, and queue up jobs for billing from the field with QR code work order tracking. Time & Material Billing
Contracts & recurring services
Schedule and manage one-time work orders or recurring service contracts to meet your current billing agreements.
Accurate bids & estimates
Generate estimates based on square footage and auto calculate pricing with fully-integrated cost calculators.
Generate time & material work orders and invoicing that include equipment, labor, and other materials.
Marketing & business growth
Maximize seasonal revenue with automated renewals, email marketing, and database marketing options.
Smart routing & GPS tracking
Reduce drive-time, improve job performance by optimizing crew routing while tracking teams by GPS out in the field.
Bid, schedule, dispatch and collect payment in just a few clicks
Whether you focus on snow removal services for residential driveways, commercial lots, or a bit of both, Arborgold's snow plow and snow removal business software keeps teams on track for every service call.
Flexible Scheduling Options
It's hard for snow removal companies to predict workload and schedule. But rest assured, they need to be ready in times of high demand, and work orders need to be completed quickly and efficiently.
That's why so many snow removal companies choose Arborgold software to simplify the scheduling, routing, work order management, and invoicing process.
Schedule work based on available staff, equipment, territory, and the capability and capacity of these assets.
Optimize routes with custom start locations for crew members, lowering drive time and payroll hours.
Drag and drop bulk changes, such as adding, removing, or modifying employees and equipment.
And if you like working with paper, use

Arborgold's Mobile QR

app to scan and schedule orders.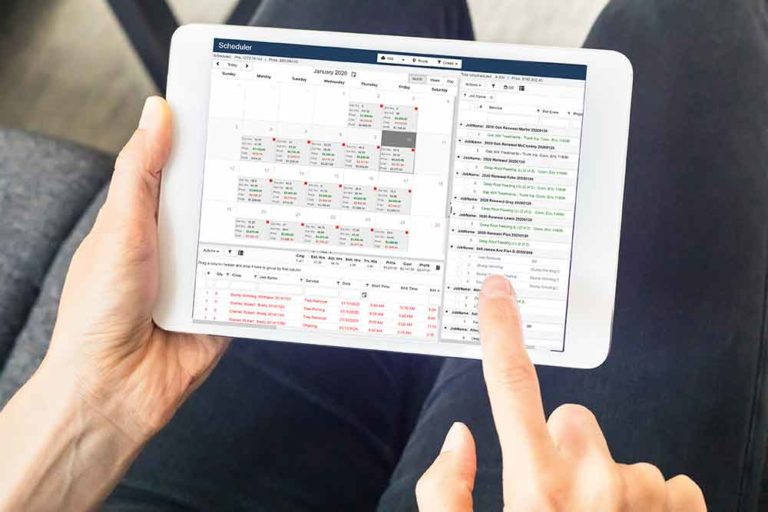 Manage Snow Removal Requests With Ease
During high season, snow plowing businesses are needed all over the place, and other times you'll be idle. Wouldn't it be nice if you could keep track of everything in one place?
Arborgold's snow removal company business management software lets you:
Schedule work orders and jobs from the office, home, or anywhere you are with our mobile app.
Accept service requests from your customers 24/7 online.
Dispatch staff to new jobs, adjust and queue their schedules, and give instant updates.
View detailed reporting on KPIs and setup crew check-ins for work orders covering labor hours, equipment and materials, and so on.
With Arborgold's Mobile Crew app, your staff has all the info they need to get the job done right such as checklists, a digital notebook, photo storage, and the ability to modify invoices from their phone.
Accurate Estimates + Fast Invoicing = Profitable Business
The best way for snow plowing companies to keep up with demand is to predict the assets you'll need, and where they'll need to be.
Arborgold's snow removal field service estimating, scheduling, and job management software gives you resource management and other tools to predict it, get it done, and bill it.
Use our auto-price calculator to deliver accurate and competitive quotes by adding up the costs of materials, crew, equipment and any other factor quickly and easily.
Create recurring revenue by automating renewal estimates and generating proposals in bulk for existing clients based on historical data.
Calculate invoices based on time and material by using our Mobile Crew app to check-in and check-out of each job.
With a few clicks you can email or print invoices for individual services or contracts, and generate invoices for outstanding work orders. You can even handle deposits and prepayment plans.
Customer Relationship Management
CRM Features To Grow Your Business
The relationship between snow plow companies and their clients is extremely important. Clients aren't thinking about you for most of the year, but when that first snow lands you want to be the only name they know. Arborgold's snow removal software makes it easier to keep in touch and keep everyone happy.
Your office staff can access customer data including contacts and history from anywhere, but you decide what is shown to the crew who are handling the orders.
Arborgold's snow removal management software allows you to setup a "request a quote" form on any website. Clients submit their information and the system sends texts and emails to your sales team for amazing response times and more conversions.
We can improve sales in other ways too. Use our tools to filter and export contact lists to create direct mail and

email marketing campaigns

or just send a small gift to clients to remind them of you each year.

Using the client access portal in our snow removal business software, your clients can view invoices, check the status of jobs, and even request a new job.
Ready to see Arborgold in action?
Schedule a personalized walkthrough