The 8 Ideas on How To Make Money In The Winter Season
As the winter season approaches, landscapers may wonder what to do in the winter. Not properly planning you may experience a decrease in work and revenue due to the harsh weather conditions. However, with a bit of creativity and strategic planning, there are various opportunities for landscapers to make money during the off-season. In this…
As the winter season approaches, landscapers may wonder what to do in the winter. Not properly planning you may experience a decrease in work and revenue due to the harsh weather conditions. However, with a bit of creativity and strategic planning, there are various opportunities for landscapers to make money during the off-season.
In this blog post, we will explore eight ideas on how landscapers can diversify their services and generate income during the winter months. From snow removal and holiday decorating to hardscaping and tree pruning, there are plenty of options to keep your business afloat all year round.
1.     Snow Removal
2.     Holiday Lighting and Decorating
3.     Indoor Plant and Landscape Care
4.     Firewood
5.     Hardscape Projects
6.     Gutter Cleaning
7.     Tree and Plant Removal or Winterization
8.     Commercial and Residential Landscape Consulting Projects
1. Snow Removal Business
Starting a snow removal business as a landscaper can be a lucrative venture if done correctly. Snow removal, like lawn maintenance, is something many people just don't have time for. Between work, family life, and other obligations, most people don't want to spend their spare time digging out the driveway after a snowfall.
A major bonus to taking on snow removal work is that you already have a client base. There's no need to grow your snow removal winter business from the ground up. Simply use the same mailing list to let your customers know that during the off-season, you can clear driveways and shovel parking lots instead.
Here are a few other steps you should consider when starting your snow removal business:
Assess your equipment needs: Before taking on any snow removal jobs, make sure you have the necessary equipment to handle the job. Invest in quality equipment like snowplows, snowblowers, shovels, etc.

Determine your pricing strategy: Set your prices based on your costs and your local competition. Consider factors such as the size of the job, the location, and the time required to complete it. Offering discounts for repeat business or for larger jobs can help attract customers.

Market your services: Promote your snow removal services to your existing clients and reach out to potential new customers through targeted advertising campaigns.

Here you can find information about adding snow removal to your landscaping business.  This content offers valuable insights and tips for landscapers looking to add snow removal services to their business during the winter months.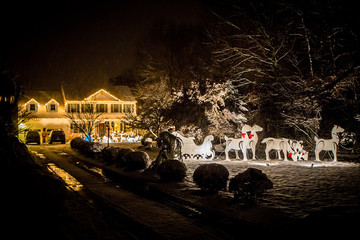 2. Holiday Lighting and Decorating for both Residential and Commercial Properties.
Holiday lighting and decorating for both residential and commercial properties can be a profitable business for landscapers, in the offseason. When you think about it, landscape and lawn care are forms of decorating. So, why not transfer those skills of lawn beautification into the winter with Christmas decorating? The holidays are a great time for residential and commercial spaces to liven things up with lights, brightly decorated trees, wreaths, and large, flashy displays.
To start a holiday lighting and decorating business, begin by determining the type of clients you want to serve. Residential properties and small businesses might be an excellent starting point. Once you have a client base, begin planning and designing their lighting and decoration needs. This involves creating a layout for the property, selecting the types of lights and decorations, and determining how they will be installed. Be sure to consider safety and accessibility when planning the layout and installation of the decorations.
Next, decide whether you will rent or sell the lighting and decorations to your clients. If you plan to rent, consider the cost of the lights and decorations, as well as the cost of storage, maintenance, and installation. If you plan to sell, determine how much profit you will make on each item and how you will market them to potential customers.
Holiday lighting and decorating for both residential and commercial properties can be a highly lucrative business for landscapers in the offseason. With careful planning, design, and marketing, this service can be a great way to keep your business busy during the winter months.
3. Indoor Plant and Landscape Care
Indoor plant and landscape care is a great service for landscapers to offer, especially during the winter when outdoor projects may not be feasible. Many businesses and homeowners have indoor plants and landscapes that need regular care, including watering, pruning, and pest control. Landscapers can use their expertise in plant care and maintenance to offer this service and generate income during the off-season.
To offer this service, start by reaching out to your current client base and ask if they have any indoor plants or landscapes that need care. You can also advertise your services to new clients through social media, online marketplaces, or local ads. It's important to have knowledge of different types of indoor plants and their specific care requirements, as well as familiarity with common pests and diseases that can affect indoor landscapes.
In addition to regular care and maintenance, you can also offer design services for indoor landscapes. This can include selecting and arranging plants, adding decorative elements such as rocks or fountains, and creating a cohesive look and feel for the space. By offering both care and design services, you can appeal to a wider range of clients and increase your revenue during the offseason.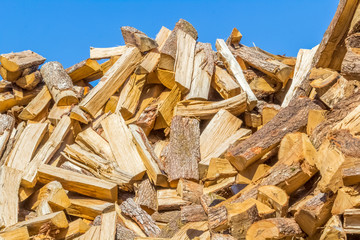 4. Firewood Delivery Service
As a landscaper, you already have many of the tools and skills necessary to start a firewood business. Not only can this be a profitable venture, but it can also help you offset any slowdowns in landscaping work during the winter months and diversify your business during the summer.
Here are some steps to help you get started:
Assess your resources: As a landscaper, you likely have access to wood from tree removals, which can be a great source of raw material for your firewood business. You may also have some of the necessary equipment, such as a chainsaw or log splitter. Evaluate what resources you already have and what additional equipment or supplies you may need.

Develop a plan: Develop a plan for your firewood business that takes into account your target market, pricing, and marketing strategies. Think about how you can leverage your existing customer base to promote your firewood business and consider offering a delivery service to make it more convenient for your customers.

Source your wood: Once you have a plan in place, it's time to start sourcing your wood. You can source wood from tree removals or purchase it from a supplier. Be sure to choose high-quality wood that is suitable for burning, and consider offering different types of wood to meet the needs of your customers.

Expand your business in the summer: While firewood demand may slow down in the summer, there are still ways to use your firewood business to diversify your landscaping business. For example, you could offer wood for outdoor cooking or build a fire pit installation service. Think creatively about how you can use your firewood business to complement your landscaping services and attract new customers.
5. Hardscape Projects
Hardscaping projects can be an excellent way for landscapers to stay busy during the winter months. While lawn maintenance might not be a priority, hardscaping projects can be completed in colder weather and can generate income for landscapers. From installing patios and walkways to building retaining walls, hardscaping projects can provide a great opportunity for landscapers to diversify their services and boost their income. Clients who are satisfied with the quality of hardscaping work may also be more likely to refer landscapers to others, leading to more business in the future.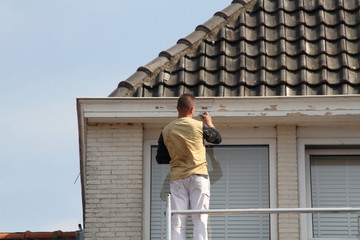 6. Gutter Cleaning
Gutter cleaning is an important part of home maintenance that is often neglected. Most homeowners don't have the time, equipment, or expertise to do it themselves, which is where landscapers can come in. This service can be an excellent way to generate income during a downturn or the offseason, as it's a task that can be done even in colder weather.
One of the advantages of offering gutter cleaning as a service is that it's relatively low-cost to get started. You'll need a ladder, some gloves, and a few basic tools, but beyond that, there's not much else you need. This means you can offer a high-profit service without a lot of upfront investment.
7. Tree and Plant Removal
Winter is a great time for landscapers to offer tree pruning and removal services as trees are dormant and easier to work with. Pruning and removing dead or dangerous trees can prevent potential damage to homes, buildings, or surrounding landscapes during the harsh winter weather. This makes tree pruning and removal a great service to offer during the off-season.
Landscapers can also take this opportunity to prepare properties for upcoming spring landscaping projects. Trimming and pruning of branches can help shape trees, which can enhance their overall health and appearance. Furthermore, tree removal can create space for new planting and redesigning.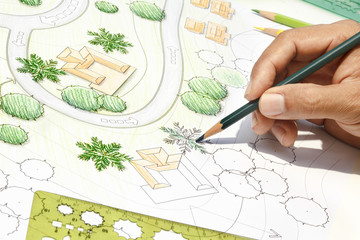 8. Commercial and Residential Landscape Projects
Commercial and residential landscape projects can be a great way for you to offset the reduction in work and revenue during the winter off-season. You can use the offseason to plan and prepare for larger landscaping projects that can be completed during the spring and summer months. These projects can include everything from creating new landscape designs to installing outdoor living spaces, such as patios, decks, and outdoor kitchens.
For commercial projects, you can work with businesses and property owners to create custom landscape designs that reflect the brand and aesthetic of the property. Additionally, you can work with property owners to ensure that the landscape is maintained throughout the year, including during the off-season.
For residential projects, you can work with homeowners to create beautiful and functional outdoor living spaces that can be enjoyed during the warmer months. This can include everything from designing and installing outdoor kitchens and fire pits to creating beautiful gardens and water features.
In addition to generating revenue during the offseason, working on landscape projects can also provide you with the opportunity to build relationships with your clients. By working closely with clients to design and install beautiful landscapes, landscapers can become trusted advisors and partners, providing ongoing maintenance and support throughout the year.
While these are some of the ideas to offset the slowdown in the winter there are other landscaping job costings strategies you can implement to avoid a downturn in any season.
If you are looking for other ways to reduce costs and increase profits for your landscape or lawn care business, take a look at Arborgold's software by booking your free tour today!