3 Reasons to Consider Robotic Mowers for Your Landscape or Lawn Care Maintenance Business
The future is now and it's mowing your lawn! If you've ever seen those crafty little automated vacuums, like the Roomba, you shouldn't be too shocked to learn that there is a similar tool in the landscaping industry. Robotic lawnmowers are the height of convenience, sophistication, and time management. Robotic lawnmowers are battery operated and…
The future is now and it's mowing your lawn! If you've ever seen those crafty little automated vacuums, like the Roomba, you shouldn't be too shocked to learn that there is a similar tool in the landscaping industry. Robotic lawnmowers are the height of convenience, sophistication, and time management.
Robotic lawnmowers are battery operated and use a guidewire to determine mowing parameters. This means a wire boundary is installed around the property you are mowing, and the robotic mower stays within that space. It cuts grass as it goes, and charges in a docking station when not in use.
Robotic mowers function in three ways, you can program them to run at random, in a particular direction, or both. While it isn't quite as cut and dry as a manual mow job, it gets the work done, and it saves you time and money.
So, is a robotic mower the right move for your landscaping company? We think it could be, here are 3-reasons why.
1. Consistency in Services
If there's one great thing about the digital age, it's the ability to produce consistent results through automatic services. Robots are designed to perform tasks the same way every time they do them. Unlike a human with a push mower, who may miss a spot, mow with a different blade length than last week, or forget about where the client wanted the mowed section to end – robotic mowers have set parameters to follow, including:
Grass length
Area of travel (within wire)
Pattern of mowing
The more consistent your services, the more likely you are to hit the mark on every visit. This leads to a greater rate of referrals, and customer satisfaction. It also eases off some of the stress when training new employees who may not mow like your seasoned pros. As long as everyone on your crew knows how to set up and run the robot mower, you can rest assured that your client's property will look as crisp and even as it did last week.
2. Reduced Operational Costs
It's costly to run a landscaping business. There are many factors to consider and many paychecks to write. Fortunately, choosing robotic mowers has an advantage in this area, saving you money in a number of areas. A robotic mower allows you to:
Minimize Staff
You can't send a robot mower to mow on its own, so some staff will still be needed to ensure your clients get the outdoor living space they're hoping for. However, you can cut back on staff costs, which can be quite a drastic cut in costs. Hiring crew means paying an hourly wage, benefits, training costs, and more.
Eliminate Fuel Costs
You may not be able to cut out fuel costs altogether, as other types of landscaping equipment still run on gas and oil. However, you can reduce your carbon footprint and your fuel bill significantly by switching to renewable energy. Battery-operated mowers can be recharged at charging docks. Every night you charge the mower and in the morning it's ready to roll.
Reduce Equipment Inventory
Ride-on mowers, push mowers, electric mowers, gas mowers, need we go on? Robotic mowers let you eliminate some of the larger equipment in your storage space, leaving more room for the important supplies you rely on. Electric mowers are quite compact compared to traditional lawnmowers. You will need to dedicate some outlets to keep things charged, but you'll earn back some floor and shelf space in the process.
Lower Transit Costs
Gone are the days of flatbed trucks and trailers to transport landscaping equipment. You want to talk about savings, consider being able to transport your mowers in the back of a compact car. Robotic mowers are small enough to fit in the trunks of most cars, allowing you to save on gas and mileage for those larger vehicles.
3. Greater Opportunity to Multitasking
Landscaping and lawn care businesses do so much more than mow lawns. While this might be part of your weekly chore load, you likely have other tasks to attend to with any given client. Depending on the way your company chooses pay scales, you may operate on an hourly, or service-type style of invoicing. If you choose service-type, then robotic mowers provide ample opportunity to increase productivity through the art of multitasking.
As your robotic mower begins its rounds on the lawn, your crew in the field can attend to any other tasks. Whether rebuilding a retainer wall or installing a new water feature, your client gets a freshly mowed lawn and all the jobs for the day are performed quickly and efficiently with no need for additional staff.
If you have other clients in the neighborhood, you may be able to set up the robotic mower on one lawn and head next door to take on a pool cleaning job, or water task, before heading back to check on the mower later.
The Cons of Robotic Mowers
At Arborgold, we like our clients to have all the facts. So, it's important we share a few of the drawbacks of robotic mowers along with the reasons they help. Robotic mowers are less than ideal when it comes to:
Mowing time – Letting a mower mow at random means it could take longer than a larger traditional mower which is being pushed in a back-and-forth motion.
The battery could die – Depending on the size of the yard you're mowing, the battery could die before you get through. Of course, you can also send out multiple units, or replace the battery, but it's still worth considering.
Energy costs – You save on fuel, but your energy bill will go up as you charge these tools. You can cut energy costs by opting for solar energy to your charging banks.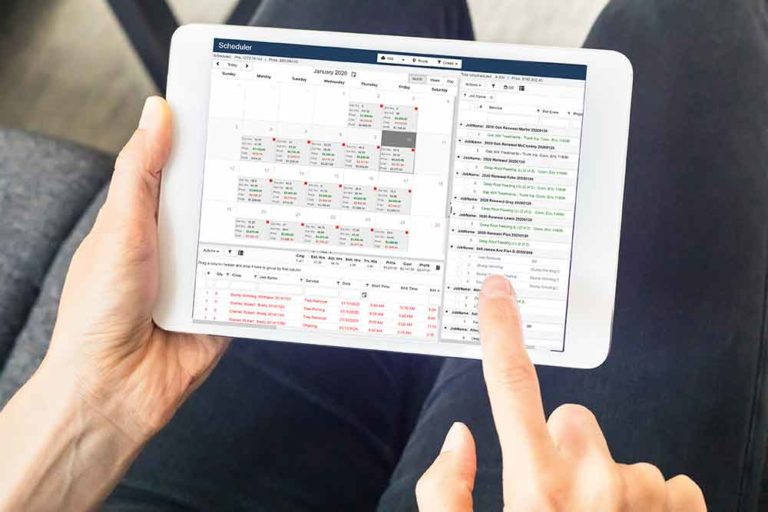 Take a Tour with Arborgold
Arborgold works with the best lawn care companies across the country. We understand better than most how unique your industry is. Generic business software may offer some useful tools, but they may not meet all your needs in terms of managing a field-based business. We strive to do just that.
Interested in learning more about Arborgold's landscaping business software? We invite you to take a tour of our software and see what Arborgold is all about.