What Are the Applications of Field Service Software?
Field service software is designed to help business models with field employees, optimize time and organization through a variety of tools and supports. Arborgold is a leading landscaping software provider based in the United States. We have worked closely with the top landscapers in the country to design software that encompasses all the major features and tools you need to be successful in the field.
From time to time we receive questions about what makes field service software the right software for a landscaping business. Here, we will discuss the difference between generic field software and software designed especially for your industry.
Generic Field Service Software
There are plenty of companies using a field-business model. These include plumbing, electrician, janitorial, appliance repair, and HVAC teams. Like landscapers, these companies send their employees out in the field to take on work for clients. Unlike landscapers, most of the features required by these companies are quite generic, including:
Job Management
Basic Scheduling
GPS and Routine
Estimating and Bidding
Team Management
Invoicing
Automated Messaging
These services mainly focus on customer services, low cost/high income, and optimized cash flow. These are all major benefits, and ones that a landscaping team could certainly get behind. However, there are still some features that landscapers require that these generic field service software models do not provide.
Landscaping Field Service Software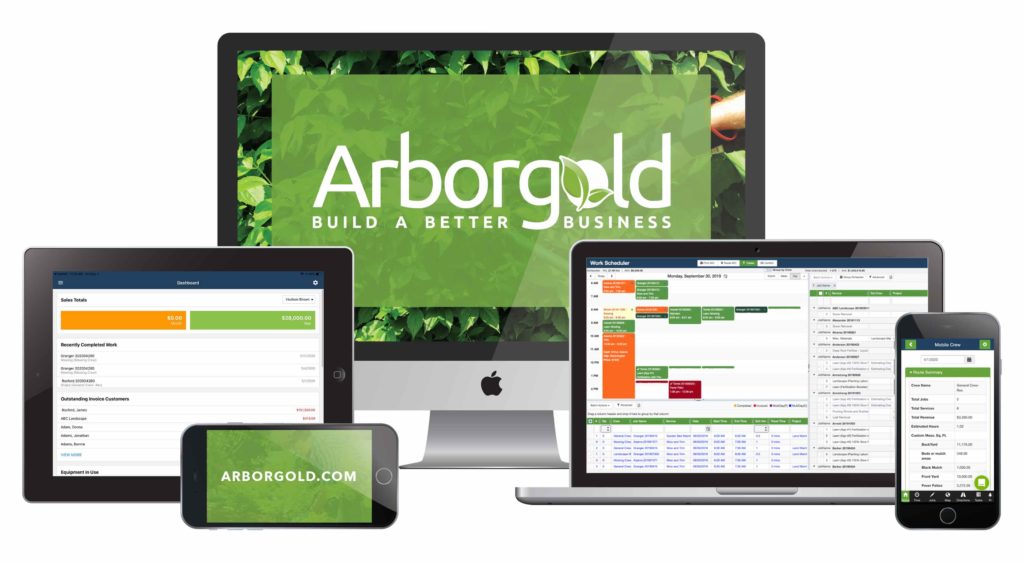 So, what sets these specialized landscaping software models apart from the generic brands? Usually, it has to do with the health and wellness of plant inventory and management of large equipment. Along with compliance regulation and other reporting services.
Let's take a look at the features Arborgold instills in our landscaping software outside of the usual tools.
State Chemical Reporting Requirements
Landscaping deals with a variety of chemicals, some harmful, some not. It is important that you know what you're working with, and that chemicals which need reporting are reported to the right authorities. This covers you and your clients in the event of an accident, or should the chemicals prove harmful to soil and surrounding plants during the job.
These reports also tell you what chemicals are being used by third-party vendors and suppliers, so you know what you are getting and what you are giving your customer.
State Weather Reporting Requirements
Similar to chemical reporting, weather reporting keeps you in the know of essential information that could help or hinder a project or the products you are using. Dangerous weather conditions need to be recognized and monitored during landscaping work, as landscapers work with heavy machinery which could be dangerous in electrical storms or precipitation.
Of course, having weather information on hand also helps you plan current and upcoming projects, lining them up with the days which are best suited to getting work done.
Client Tree and Plant Inventory
Inventory is a huge component of any successful landscaping company. If you do not have the inventory your clients need for a project, it will affect completion dates and cause delays. Managing inventory, especially nursery and tool inventory keeps your business productive
Landscaping software is designed to keep you apprised of all important information affecting your business, including inventory. Monitoring the checking in and checking out of large equipment helps you schedule jobs between employees and ensure that equipment is ready and fueled when needed. Similarly, having access to a list of nursery options allows you to replenish as needed and design landscaping projects around the availability of plant species on hand.
Real-Time Supply Chain Material Availability
Like your inventory, your supply chain needs to be maintained. A specialized landscaping software will keep you informed of the orders you have made in the past, orders you are currently requiring, and future orders you may put into your supply chain. This also helps you see which products are selling and which should be discontinued.
Your real-time supply chain material availability reports to you in real-time the products you can replenish and when. This allows for automation, so you are not consistently checking back and forth, and can spend time managing your company in other ways.
Landscape Design Tools
Landscaping is a creative business and being successful in a bidding war requires you to prove to future clients just how creative you are. Landscape design tools allow you to show your creative side and provide customers with dynamic and unique ideas for their gardens, lawns, and outdoor living spaces.
Landscape design tools are an asset in the landscaping world as they let you create detailed mock-ups and customize them to your customer's needs and style preferences. Having this technology at your fingertips can sometimes be the difference between landing a bid and losing out to a competitor.
Landscape design tools included in your field software also let you upload designs to your website. Build a logo, block out a garden, or draw your client's dream living space for their outdoor area at home. Whatever the reason, design tools are an exceptional accessory to your landscaping business service software.
Remote Land Measurement Tools
Knowing how much land you are working with before you get started on a project is important. If you are off in your measurements you wind up undercharging, overcharging, or overshooting the property line on a major build. For landscapers who take on big projects especially, land measurement is key. Remote land measurement tools are a huge asset to any field service business software.
Arborgold business software includes highly accurate remote land measurement tools. Use them to provide a client with a realistic cost estimate, to design an element for a garden, or to order supplies for a build. The uses of digital measurement tools are ongoing, and while you may decide to use a manual measuring tool, the digital option will help in a pinch if you forget your measure tape at the office.
Real-Time 24/7 Communication and Project Tracking
Finally, knowing where your team is, which project they are working on, and when they will be finished helps you plan other projects and guarantee your customers that you will meet deadlines without going over budget. Arborgold's real-time 24/7 communication features keep you in touch with your team wherever they go.
Find Our More About Field Service Software with Arborgold
Arborgold is a leader in landscaping software and has been working with landscaping teams across the United States for many years. In an ever-changing industry, we strive to continually upgrade our service software to reflect the needs of your clients. Watching you succeed in your business helps us succeed as a software provider, which is why we take our role very seriously.
When you choose Arborgold, you will find that the available features in your landscaping service software change dramatically from any generic field service software you have used in the past. While many generic models are fine for basic day to day field work, Arborgold strives to go above and beyond to ensure your customers are getting the very best from you.
For landscape construction, maintenance, lawn care, plant health care, and tree companies who need software designed by industry experts for their industry, take a tour of today's leading all-in-one business tool here.