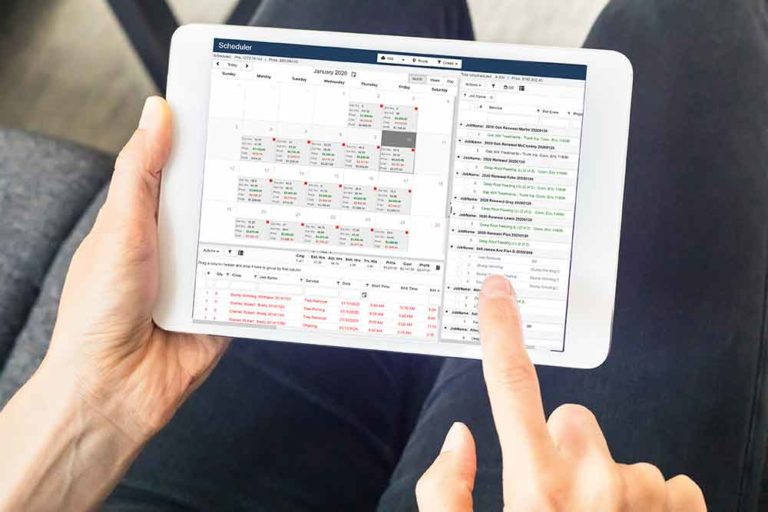 6 Ways to Improve Business Efficiency Using Work Scheduling Software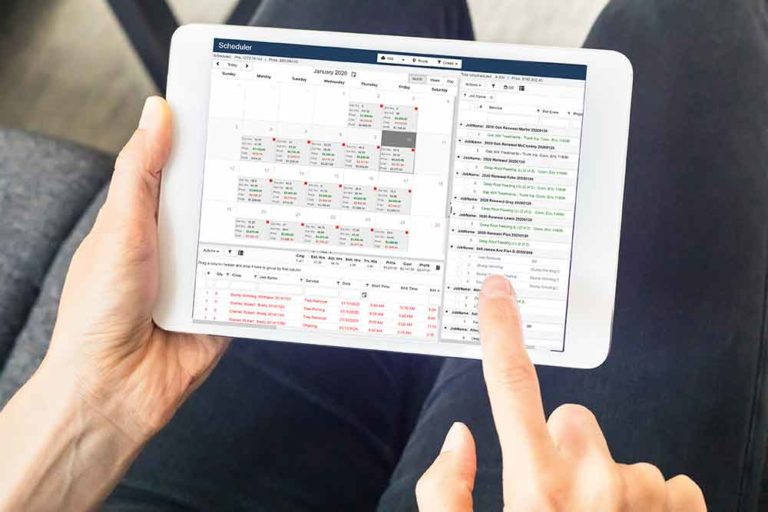 Arborgold is constantly working to enhance our field-business software to help businesses like yours. Whether you're in landscaping, lawn care, pest control, or snow removal, your business model is unique.
Sending crews out into the field day after day means managing your employees from a distance. Along with this, there are commercial vehicles to maintain, equipment to account for, and inventory to monitor. Fortunately, Arborgold has you covered with our scheduling software. Here are 6 ways you can use our scheduling software to improve your company's efficiency.
1. Job Categorization and Organization
Field businesses manage multiple jobs a day, and this gets confusing. As you judge scheduled and unscheduled jobs, your business software helps you keep tabs on what's currently underway and what's coming up in the future.
Landscaping businesses often have a myriad of seasonal clients. This means you may have a client you are servicing this afternoon and not again until the winter season. How do you organize these dates and times so nothing gets lost?
Arborgold's business scheduling software lets you:
Drag and drop your appointments.
Designate crew members.
Automatically schedule recurring options.
See everything directly through a convenient mobile app.
Nobody is left out of the loop, and no appointments are missed. You can even schedule multi-step jobs effortlessly to avoid confusion.
2. Google Map Integration
Arborgold scheduling software offers our Google Map integration, allowing you to schedule visually, seeing which area your client lives in and which crew is closest to take the call. Not only does this give you a chance to optimize routing and streamline departure and arrival times, but you can group jobs in the same area together to get work finished quickly and efficiently.
Map integration also allows you to manage scheduled and unscheduled jobs. If you're in an area when a call comes in, it's easy to discern if there are crews available to take a new request in a specific area, or if new jobs need to be scheduled at later dates.
Better schedule long-distance jobs, multi-trip jobs, and other tasks which involve your crew to travel. Plan and track each scheduled route, no matter where you send your fleet.
3. Job Creation and Assignment
Scheduling software is an asset for keeping your teams organized on the job. You can see where your staff is and they can see when a job comes in, who it is assigned to and where it is located. Job creation and assignment tools make sending jobs to your crew in the field quick and easy.
Arborgold's business software works in real-time, allowing everybody to see the same schedule changes and updates as they happen.
Job assignment is built for convenience, letting you see who is in the field, who is coming in, who is on vacation and who called in sick. You can easily group employees, find the equipment needed and assign jobs to the right teams.
4. Mobile Crew App Work Orders
Everything is mobile, and our scheduling software is too. Gone are the days of trying to print work orders and fax them to offices or have teams pick them up before a job. Now, all work orders can be viewed and shared easily over the mobile crew app. This makes it easy to delegate work, assign new tasks, and ensure that everybody knows where they need to be.
The best thing about the mobile crew app is the connectivity. Everybody can see what you see, making it easier to communicate effectively if there are problems or concerns with a work order.
Work orders include the job expected of your team, the person who authorized the order, and the steps to complete the task. Having a mobile work order keeps your crew on task, and allows them to check back and ensure they are meeting all the requirements of their work order.
5. Recurring Service Scheduling
Many landscaping businesses have customers with recurring services. If this is you, scheduling software will help you streamline your recurring schedules. Whether a service is daily, weekly, monthly, or seasonal, you can manage everything from your mobile calendar.
To make changes to recurring schedules simply select the projects which need to be updated and choose the appropriate action to update them.
Another feature of service scheduling with recurring jobs is automation. Our scheduling software is automated across the board, allowing you to set up services with recurring patterns to ensure they are never missed. You can even set reminders so if a new crew or equipment needs to be assigned later you can easily make these changes.
6. Automatic Weekly Timesheets
Landscaping companies spend hours pouring over weekly timesheets, checking for clock-ins, clock-outs, breaks, sick days, vacation pay, and any other scheduling element which may appear on a weekly chart. With scheduling software, this is all done for you. Employees can check-in, or be checked in and out, through the mobile app with ease. As information updates in real-time, timesheets are automatically updated to reflect changes.
At the end of the week, all you need to do is bring up the timesheet and give it a quick once over. Many companies ask their employees to be accountable for their own time checks, signing off that weekly timesheets are accurate before they are officially submitted. This takes the onus off you.
Automatic timesheet development saves you time now and later. At tax season, these meticulously automated pages make it easy to tally hours and income and deliver employee records in a timely fashion.
Take a Tour with Arborgold
Arborgold develops software specifically for companies like yours. We understand that field-related jobs require a unique CRM and scheduling system, and generic software just won't do the trick. We are constantly updating our software to meet the changing needs of landscaping and lawn care companies across North America.
Interested in learning more about Arborgold's work scheduling software? Take a tour and see all that Arborgold can offer your field-based business today.