Learn More About the Power of Arborgold In Minutes
Discover the features that today's leading companies use to acquire more customers, serve their customers well, and create repeat business year-after-year.
Powerful Business Intelligence & Reporting
Understanding the mission critical Key Performance Indicators (KPIs) of your business can mean the difference between profit and loss.
From dashboard overviews to custom report writing, with Arborgold you have the power to understand your business metrics, real-time.
With over 100 standard reports to choose from including chemical reporting, accounts receivable, sales, commissions, and performance management, you're always "in the know".
Take Your Service Business Everywhere You Go
Take Arborgold's product tour to look inside our dedicated mobile apps for production and sales teams. Whether you prefer your mobile phone or your iPad, stay connected to your crews, sales teams, and office in real-time. With Arborgold Mobile Apps, you're creating estimates, invoicing on-site, adding on services, reviewing contact history, and more.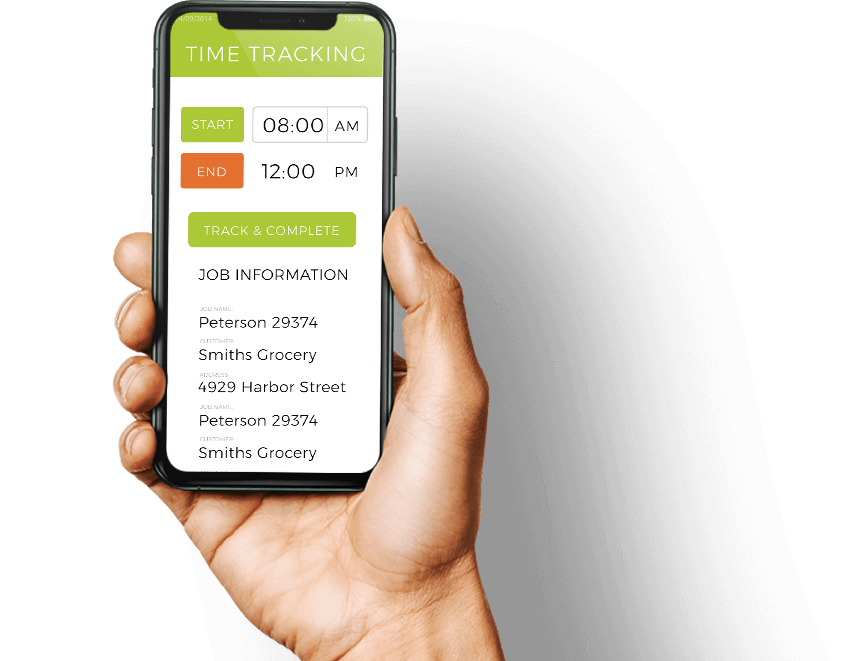 The Perfect CRM For Your Service Business
Today's leading service companies NEED a single source of information about their customers and leads. Arborgold's Customer Relationship Management (CRM) features offer users the ability to create notes, review bids, job history, payments, receivables, and much more.
Learn more about Arborgold's advanced filtering, search and tagging options when you take a tour.
Scheduling That Matches the Way You Do Business
Every company schedules their service with clients "their way". Software shouldn't limit your ability to schedule jobs and work orders the way you want. With Arborgold, scheduling options have almost no limits. From multi-day to successor, recurring to one-offs, Arborgold delivers.
And if you're looking for ways to improve your scheduling based on industry best-practices, we can help. When you subscribe to Arborgold, we're more than just a software program, we teach you what leading companies are doing to improve profits and reduce costs.
Professional Proposal, Bids & Estimating Software
Your ability to create bids and estimates quickly, accurately, and with a winning bottom line is your lifeline to new sales. Whether you're a start-up business or you're a seasoned company with an existing client list, you want:
Your quotes to look professional and represent your brand with your logo, certifications, and possibly a testimonial.
Estimate off-site using our land and lawn measurement tools, integrated with Google Maps.
To be able to customize your proposal templates and service line-items, based on your business model.
You want to send estimates via email, print them, or load them up into your customer's 24/7 access portal.
To be able to track outstanding bids and automate your follow-up automatically.
With Arborgold's Estimating Software, winning bids are just a couple of clicks away.
Integrated Billing & Invoicing Software
There's more to sales than just a winning bid. Managing contract billing, generating invoices each month, tracking prepayments and deposits, and keeping up with Accounts Receivable are how your business makes money. With Arborgold, you're virtually eliminating the disconnect between your accounting software like QuickBooks, your scheduling software for cash flow, and your production teams for billing & invoicing. Here's how:
Create, track, and take payments for partial invoices that include deposits, prepayments, and line-item billing.
Speed up your monthly billing by simultaneously generating an unlimited number of invoices, separated by email or print preferences, in just two clicks.
Simply customer payments with e-pay credit card processing options.
Customize invoice templates to meet your business needs.
With Arborgold, you're separating your accounting program's confidential payroll and cash flow information from your day-to-day operation teams. With seamless integration to QuickBooks Desktop and QuickBooks Online, departments are connected automatically.
Job & Resource Management Software with Time Tracking
While sales is on the phone or out on appointments generating more business, production teams are fulfilling the work. You want real-time communication between the office and the field AND the ability to track crews, materials, and equipment when it's at a job site. With Arborgold:
Access a bird's-eye view or scheduled, unscheduled, and completed job orders at any time.
Manage and add individual service line-items, subcontractors, and third-party suppliers within the job.
Create job checklists, document chemicals and weather conditions for state reporting, and track inventory usage.
Track employee production time, travel time, and off-the-clock time to support detailed job costing reports.
Incorporate before and after photos and drawings and include CAD layouts or satellite image captures to support work orders.
Running an efficient business is all about organization. If you're administrative and customer support teams are spending valuable work time on the phone trying to reach sales or production teams, there's a better way. From phone messages, to text messaging, and appointments, Arborgold's Message Center will transform the way your teams support the front lines.
Centralize appointment scheduling while integrating with individual google calendars for on the go access.
Create new accountability and ensure proper follow-through with electronic messages that "never falls through the cracks".
Improve response speed for customer service or new lead inquiries.
Keep close track of sales close ratios, unresolved messages, and all appointments as part of your KPI reporting.
Arborgold's Message center acts as the communication hub of your industry-leading CRM Software. Exceed customer expectations and deliver on promises, company-wide.
With Arborgold's Estimating Software, winning bids are just a couple of clicks away.
Estimating, Scheduling, Job Management, & Invoicing Software
For Lawn Care, Tree Care, Plant Healthcare, Landscaping, and Other Field Services Industries
You can double your business this year!